How to Get a Good Rank in GATE? | Interview with Hussain Jagirdar (AIR 202 CSE)
Hi Guys, you might be aware we are busy harnessing as much knowledge as we can get from GATE rankers. You can read all the Interviews with GATE Toppers.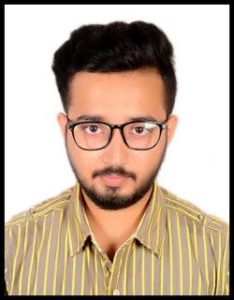 Today, we have Hussain Jagirdar (AIR 202 CSE) to share his insight about GATE preparation. He is Specialized in Computer Science Engineering and currently pursuing B.E. from Medicaps University.
So let's start pondering without wasting any time. Here is an interesting conversation with Hussain.
How to Get a Good Rank in GATE CSE?
Heena Rajpal: You got AIR 202. I mean, it's mind-blowing. First of all, many more congratulations on your success!
To whom do you want to dedicate this success? Who has all helped you to achieve this? How did your family support in your preparation?
Hussain Jagirdar: Thank you CSEstack. I want to dedicate this success to my parents, teachers and all my friends who stood with me throughout all ups and downs. My family was very supportive from the beginning, and they tried to avoid all the functions and trips which could interfere with my studies.
HR: Share your feelings after cracking the GATE exam with such a big success.
HJ: There was a mixed feeling of happiness and regret. Happiness for a great score and regret for the silly mistakes that I could have saved in the paper.
HR: What motivated you to appear for GATE?
HJ: Frankly speaking, I didn't think of doing masters until my II year. Only when my friends started preparing for the GATE, I too thought of doing masters.
How to Get a Good Rank in GATE CSE by Hussain Jagirdar?
HR: Hussain, when did you start your preparation? How should GATE aspirants start preparing for GATE?
HJ: I started my preparation from the 5th semester of engineering. And I think 1 year is more than enough for preparing and revising the whole concepts for GATE.
Related Read: GATE CSE Preparation Guide by Shiva (AIR 77)
HR: Are you a night owl or an early bird? What time do you find more compelling for study and why?
HJ: Night owl would be appropriate for me, but I used to do most of my studies in the day time.
Also, I think if you can be the early bird, then you should try to study in the early morning because the concentration power is at a peak in the early hours.
HR: Can you share any preparation strategies with our readers? How to schedule study time and make timetables?
HJ: When you study subjects for the very first time, try to give maximum efforts in understanding the concepts and learning things rather than practicing numerical on it.
Also try to make a time-table for the short duration (say a week), because it will be easy to implement and can be easily revised. Moreover fixing hours daily for studies will be helpful and prioritize your to-do list to remind the importance of the GATE.
Important Topics for GATE CSE:
HR: What are the important topics that GATE aspirants should focus on while attempting the GATE exam?
HJ: Outputs of C programs, Regular languages, LL and LR parsers, Complexity, SQL queries, Process Scheduling, Cache, Pipelining. Every topic is a must-read to score well in GATE.
HR: If there were three essential tips to crack the GATE (CS) exam, what's your take on?
HJ:
1. Do not take aptitude and Mathematics for granted. They together comprise more than 25%. For aptitude, you should follow standard practicing tips for clearing the aptitude test.
2. Try to take a test of the subjects or topics as much as you can. The test will help you in time management as well as clear the doubts regarding the concepts.
3. Make notes of each and every subject topic wise and revise them thoroughly before each test. Also when you make some mistakes, or some new concept appears then write it down on that same copy so it can be revised before tests.
What are the Best Materials And Coaching Guides for GATE?
HR: Have you attended any coaching classes? If yes- From where? How did it help? In your opinion, is it necessary to take coaching for GATE Preparation?
HJ: Yes, I attended Zeal Coaching classes, Indore for GATE preparation. These faculty taught us the subjects from scratch.
No, I don't think that coaching is a must for GATE preparation. In that case, you should learn and practice on your own without any force.
HR: Which books/materials did you follow for GATE preparation?
HJ: I didn't have the time to read the whole book, so the coaching notes were sufficient for me. In the book, there is a significant amount of content, and you should adhere yourself strictly to the syllabus. Always keep complete GATE syllabus beside you.
On the Day of GATE Exam
HR: On the exam day, what was your experience like? I have seen many students get panic and lose their momentum. Can you please elaborate your view on it? It will be extremely helpful for the students.
HJ: It was an entirely amazing experience. I was quite nervous but had the confidence that at least I won't sit idle for the next three hours.
You have to report 30 min before the exam time, and the process starts 15 min before the exam.
There are multiple-choice questions and numerical questions where you have to submit the numeric values with the help of a virtual keyboard. Also, the virtual calculator is available on the screen. I had done many computers based mock test, so for me, it was familiar.
The nervousness will be at the peak before the examination, but it will vanish as soon as you start solving the questions.
HR: Hussain, how should one schedule answer the GATE exam – which section should be attempted first?
HJ: Automatically the first section would be of aptitude and mathematics, and you should try this first because the questions are easy and it will help in gaining confidence.
And in the technical section, try to solve the whole paper in different passes.
In the 1st pass, do all the questions on the topics in which you are strong and are less time-consuming.
In 2nd pass try to solve the remaining questions.
Also in spite of attempting each and every answer, try to reject the question which can take more time.
Which is the best college to join MTech by Hussain Jagirdar?
HR: What are the college preferences you would like to give for CS and IT M Tech?
HJ:
IISC Bangalore
IIT Bombay
IIT Madras
IITD Delhi / IIT Kanpur/ IIT Kharagpur
IIT Guwahati
IIT Roorkee
NIT Warangal
NITT Tiruchirappalli
NIT Surathkal
…
You can also read Ranking-wise College Preference through GATE Cutoff.
HR: Do you have attended any interview after GATE? If yes- how one should prepare for it or any tips?
HJ: No, I haven't attended any interview.
HR: Hussain, can you give your veteran advice for future GATE Aspirants?
HJ: Simply focus and don't think GATE as that of JEE Advance. GATE is quite easy and can be easily cracked with some hard work and dedication.
If you need any help or advice, then you can mail me at hussainjagirdar.hj[at]gmail.com.
All the best!
HR: Thank you so much, Hussain. You have curated lots of valuable GATE preparation strategy. I am sure, your advice on "How to Get a Good Rank in GATE CSE?" will help many GATE aspirant.
We team at CSEstack wishes you a very bright future!
Other GATE Topper Interviews you should read.
GATE CSE Preparation Guide | Interview with Shiva Kulshreshtha AIR 77
How to Prepare for GATE Exam CSE | Interview With Sushant AIR 179
GATE CSE Preparation for ECE Student | Interview with Sudheer Chandra AIR 60
GATE Preparation Strategy | Interview With Himadri AIR 15 CSE
If you are serious about GATE, you can join our GATE preparation community. Stay Tuned!