[7 Tips] Boost Internet Speed while Working From Home?
Because of the Covid-19, going office is not possible. Many of the country imposes lockdown and people are not allowed traveling.
We started adopting the things to survive this bad time. Most of us are working from Home.
If you are working from home, you might be using your home internet for your office work.
You may not have the internet as good as you were getting in the office.
When I started working from home, I faced many of the internet issues while doing office work.
Many times, my bandwidth quota reaches to the limit. I was not getting much internet speed while doing office work. Sometimes, video streaming applications disconnect in the middle of the meetings. And what not…
How to Optimize Internet Speed while Working from Home?
Finally, after doing kinda research and trying different methods, here are some of the quick tips that helped me access the internet effectively for office work.
Stay within the 5 meters of the routers to get optimum speed.
Every router has a different range. It is always good to be near to your router to experience maximum speed.
The number of people in your family accessing the internet also impacts the speed and bandwidth.
To increase productivity while working from home, set up your desk for office hours near the router or in the same room. Having a good setup and the best working chair, you can concentrate for more hours hassle-free.
Save the Bandwidth for Important Work
Many times we realize our internet quota reaches the limit. You are not able to access the internet even for your important office work.
Here are some of the things you can stop doing. Stop downloading any movies or software that are not useful this time. If you are using same internet for your smartphone, stop updating Android apps in the background.
Once, at the end of the day, when you have done with your office work, you can use remaining bandwidth for download movies or updating apps.
Ensure you disconnect VPN while browsing
Using the VPN takes extra bandwidth. Turn off the VPN whenever it is not necessary. With this, you can save your data.
Avoid streaming HD content while video calling or watching video
High-quality videos take more data for streaming. It is advisable to avoid streaming HD content.
If you are watching education video on YouTube, you can watch it with the low quality. Here information shared in the video is more important the video quality/. It saves your lot of data.
You can check how Quality of the YouTube video make significant impact on data usage.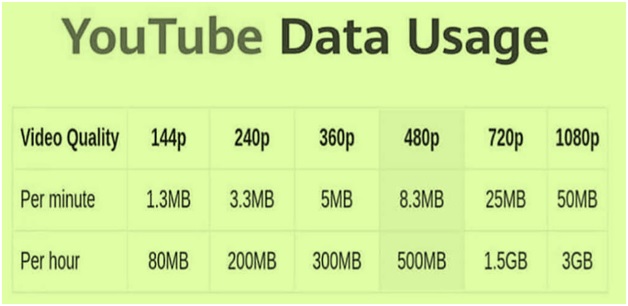 During the lockdown, YouTube has shrunk the quality of the streaming by default.
Restart video streaming app if there is congestion
Since the IT industry is adopting Work From Home services, the number of meeting has increased.
While attending video conferences or meetings, sometimes streaming apps like Zoom, Webinar freezes. Instead of finding the glitches in the stream, restart your video calling or streaming applications.
Restart router at regular interval
Restarting router work surprisingly. When you restart the router, it set the router at the default setting, removes any clutter.
Do not leave your system in hibernate mode
If you keep your computer at hibernate mode, background applications still runs and access the internet.
You can simply disconnect the internet when it is not needed.
Personal Advice: We are lockdown at home. Utilize this time to learn new skills that will help you in the future. Just like programming, you can learn anything from home.
How much Internet Speed is required to Work From Home?
This really depends on for what purpose are you using your internet. 50-60 Mbps speed is really good enough to search on the internet and to browse social media.
If you are working on remote server or device, you can use different technologies like telnet, ssh or VPN, putty. For this you need stable connection.
For IT engineers working on the code base, they have to clone remote code. While cloning the remote repo, the complete code base will get copied from a remote server to your local machine. For this, you need a stable and fast internet connection so that copying data from remote to local machine does not get interrupted.
(Git is the most common source code management tool for working on the remote repository. You can refer to git tutorials.)
How to test your internet speed?
You don't need any software to test your internet speed. Google has embedded an internet speed tool in the Google search engine.
Here is how you can check the internet download and upload speed:
Go to Google.com.
Search for internet speed test.
Tap or click the Run Speed Test.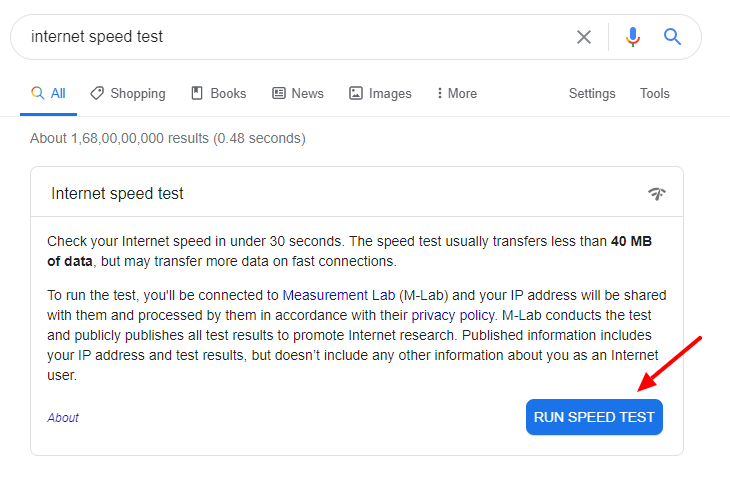 These are the simple tactics that worked for me. Hope it will work for you as well. If you have a stable internet connection and internet speed while working from home, most of the things are sorted. Any questions? Let me know in the comment.
Stay Home, Stay Safe!