Best Chair for Programmers and Software Developers for Home Office
Corona crisis has affected badly to everything, our living and so. The IT industry can not be an exception. Most of us started and leveraging working from home culture. We are setting up our home office.
When it comes to setting up the home office, the first thing is the office chair after having all the essential equipment like Computer, Laptop, Monitor…
As you have landed here, you are looking for the best chair for programmers.
Getting a comfortable chair is a one-time investment. We don't change the chair as we change our shoes or clothes, do we?
So make the decision wisely. Go through the article till the end. In the end, I will share the best chairs you should go for.
Why should Programmer Invest in Chair?
I can rephrase this question. Being a programmer, why should you more concerned about your sitting posture.
We usually spend more time working in front of the computer than anything else.
Using any chair that is not conformable for sitting a long time can lead to a lot of problems.
Using a local chair, you can not sit comfortably for a long time. You can not concentrate for more hours. This impacts your productivity.
If your sitting posture is not proper, it leads to back/neck/shoulder pain problems. I have gone through the back pain issue. Believe me, this is very painful. I remember the number of nights I had spent sleepless. Finally, I had to consult physio. That's just another story.
I learned it hard way.
Never-ever compromise your health for the job.
Investing in office chair is good investment for your career and health. It pays you in long run.
What Type or Design of Chair Best suitable for the Programmer?
The programmer usually sits by keeping the hands on the keyboard and eyes intently looking at the computer screen.
A programmer needs to do one thing more often than any other- Contemplate.
The programmer spends more time thinking and inspecting more than just writing code.
We do our most important work leaning back and thinking through the problem rather than just jamming keyboard buttons.
Usual sitting for programmer:
We write code by jamming keyboard buttons looking at the computer screen window.
We move away from the computer, but not always leave it.
Take our hands off of the keyboard and mouse. Lean back from the monitor and let our eyes change focus and think through.
To get into the proper posture, you need office chair.
A chair needs armrests, and a joint that lets you rock back some. It should also take your weight comfortably as you do this.
In other words, you need a chair with an ergonomic design that makes you more effective and comfortable while working.
How is the ergonomic design chair different from a normal chair?
Ergonomic design chair have proper height and weight required to work in front of the computer/laptop. It maintains proper arm-to-keyboard positioning.
Remember, having ergonomic design is more important than the brand of the chair.
Best Chair for Programmers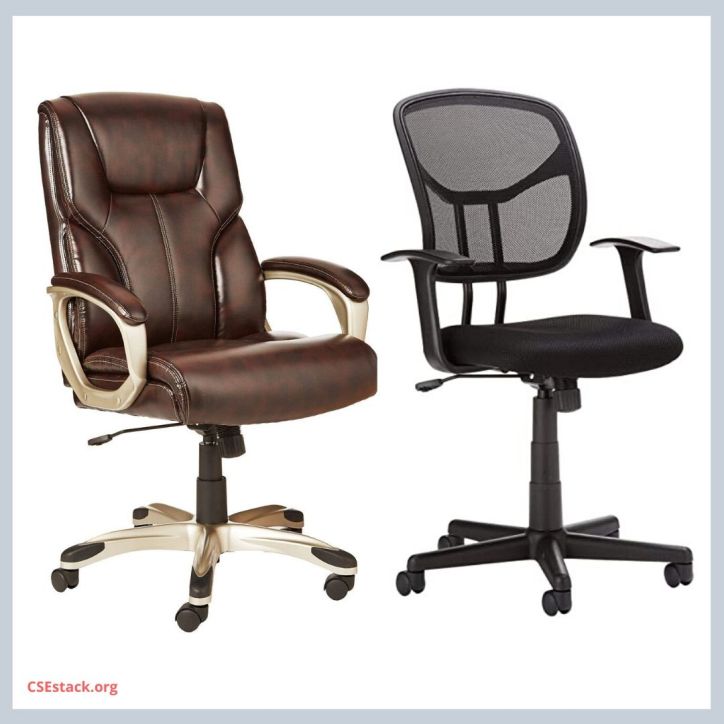 I usually spend more than 10 hours working that includes completing coding assignments and writing tutorials. I write one Python tutorial every day.
When I was buying chair, I was looking for the two things.
It should have an ergonomic design. (must)
It should have a good brand and built-in quality.
Considering the requirements, I have filtered out chairs for programmers on Amazon. You can check it out.
This listing includes chair for Amazon India.
The price range of these chairs varies based on the brand, quality, and features.
If you are confused, here my two picks from based on the Amazon best sellers and reviews.
1. Herman Miller Embody Chair
If budget is not a concern, and you are expected to sit down for more hours, I would recommend Herman Miller Embody chairs.
Herman Miller is an international brand and available in most countries. You can check the prices of the Herman Miller chair on Amazon.
If you don't have issue with the budget, their is no other better alternative.
2. AmazonBasics High Back Executive Chair
If budget is a concern, but you are expected to sit down for more hours on that chair, I would recommend AmazonBasics High Back Executive Chair on Amazon.
Note: Since the Corona pandemic crisis, almost all the companies have imposed the Work from Home (WFH) for IT employees. Many of the companies have a special reimbursement plan where companies pay you for purchasing essential equipment for WFH. You can check it with your company authorties.
This is all about my experience being a programmer and my take on choosing the best chair for programmers. If you have any doubt, you can ask me in the comment.