5 Standard Statement of Purpose Format | SoP Guidelines and Tips
In this post, I am proposing Statement of Purpose format guidelines. You must follow these guidelines to make your SOP powerful. Before going to the discussion, let's see what is Statement of Purpose if you are not aware of…
What is a Statement of Purpose (SOP)?
You seek to gain admission to a graduate program at a University you will require a statement of purpose. A statement of purpose is a written document which provides answers to the reader as to why he or she is applying for a program at a particular university.
Some important questions an individual needs to answer is:
A clear reason for choosing a particular university.
A clear reason for selecting a program out of the whole programs offered in the University.
The benefits of gaining the qualification you desire for.
Statement of Purpose Best Format and Content Formatting Standard
Let's look at some important factors for generating an efficient SOP.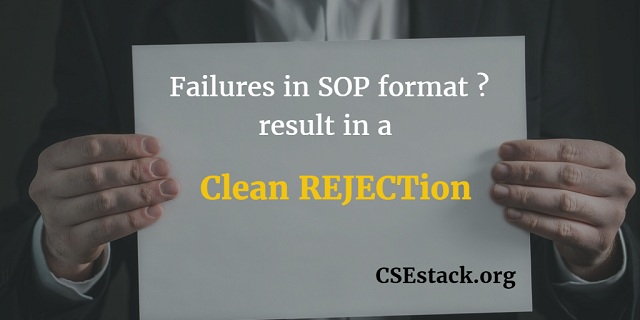 1. Your statement should clearly have the purpose it's supposed to have.
Your statement should be narrowly focused on convincing the intended reader.
You need to be open and precise regarding the information you want to give out to the reader.
The information should not contradict your statements.
Too often, statements of purpose are poorly focused, vaguely autobiographical essays, in which case they become inadvertent disclosures of purposelessness.
2. A statement of purpose should not be a narration of the accomplishments you have.
Your academic qualification clearly mentions your achievements but there is no harm in mentioning a particular accomplishment in applying to the program.
But the individuals shouldn't emphasize on his achievements is to persuade the reader that he or she is highly qualified for admission.
The Statement of Purpose format is usually the only part of the applicant's file where he can find strong evidence.
This evidence can be for knowing whether a candidate's qualification is mashing up with his academic background and interest in pursuing a career.
3. Your statement should be tailored in accordance with the need of a specific institution you intend to apply.
Do your homework before writing SoP.
You should specifically target the institution you are looking for. An applicant must be well equipped with the knowledge of a particular university, its specific department he or she is applying to.
He also should focus on the course content that he is wishing to apply.
A student could possess a strong case while knowing all the specifics.
Many applicants fail to stay in the limitations and give a wrong view of their applications. So this is very important considering the Statement of Purpose format.
4. A statement of purpose should be of the right length.
How many pages of SoP is good?
Academic experts say that the statement of purpose should be of two pages.
What's wrong with writing large SoP?
Many students don't give much attention to this detail and carry out writing a substantially large SOP. A large document won't be read out easily by the faculty.
It is obvious when there is a wide number of applicant's SoP needed to be gone through by the faulty.
Keep it short and precise:
Transforming your message to the reader in a short and precise will generally give you an edge over applicants.
So, keep fewer words to transfer your message than others.
Sometimes applicant fails to be concise and give out the sufficiently detailed account. It results in failure to transfer their message to the reader.
5. Your statement must not have misspellings, grammatical or factual errors.
A good SOP must be well equipped with the right spellings, abbreviations, and correct grammatical usage.
Though it doesn't sound that important, many individuals fail to impress the reader by making small errors in their writings.
Poor writing and factual errors are very strong evidence that you are not yet ready for graduate school.
Apart from that, there are many specific requirements, and it depends on a particular university or college. Suppose, you can read SoP guidelines by Stanford.
I can say, if you are applying for any specific graduation college, do a search on their website. They may have their SOP guidelines. Consider that as well.
Final Word for SOPs:
They are of vital importance and Universities treat them very seriously. It is very essential that a good statement of purpose is forwarded to the institutions interweaving your goals and achievements. What exactly you want to achieve in your life and what your goals are.
A failure to transform it will ultimately result in a clean rejection of your application. So don't underestimate these Statement of Purpose format guidelines if you are really serious about your career.
Related Read: 7 Reasons on Expenses | Online Education vs Traditional Education
If you get a call from any institute, keep your resume ready. Make it clean and sober with standard formatting guidelines for CV. If you have any specific doubt for Statement of Purpose formatting, feel free to write in a comment. I will reply you back.