Campus Ambassador Program by CSEstack
CSEstack is portal for computer science. It covers all computer science subjects, programming skills, placement and interview experiences.
We are very much thankful for everyone making this portal worthy and helping us to spread the knowledge. Taking it to next level we are extending this organization.
Now, this is our time to give you an exclusive opportunity to become Campus ambassador in your college.  So we call it a Campus Ambassador Program by CSEstack.
Ask yourself…
Do you want to develop your leadership quality before coming to the corporate?
Are you geek,  love coding and computer science stuff?
Do you like helping others and spreading knowledge among your buddies?
So what are you waiting for…?
You are at the exact place where you should.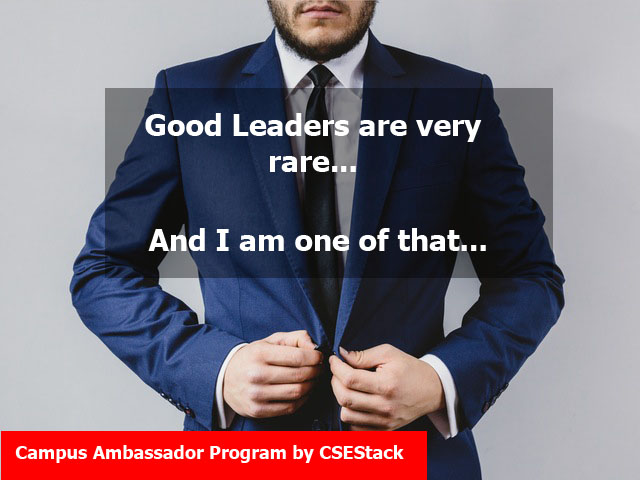 How this Campus Ambassador Program is beneficial for you?
Be student ambassador of CSEstack and join our core team.
You will get the recommendation on LinkedIn after completion of the program.
You can enroll your resume as CSEstack ambassador.
You can add value to your email signatures, LinkedIn profile, blogs, Facebook pages, personal pages etc
Depending on the performance, you are eligible to get internship offer from CSEstack (You can read benefits of internship)
Get a badge to Represent CSEstack in College, University and all over the region.
A good ambassador will be offered with some exclusive goodies from CSEstack.
What are the Responsibilities you will be evolved with?
You can not change every circumstance comes to you, but taking responsibly makes you wiser. Responsibility comes with an opportunity to change and evolve yourself. You will be assigned the following responsibilities.
Join with Master Minds from various colleges and representing CSEstack in their college as CSEStack Campus Ambassador.
Be the contributor. You can read detail at here.
Getting connected with CSEstack core team. So you can share updates from your college (tech fest, placement drives, and all corresponding events…)
Inviting and asking your friends to join CSEstack portal. You can invite them to join our Facebook community.
You can approach placement cells from your college to get connected with CSEstack. So that we can provide valuable guidance to all the students for placement.
Organizing and coordinating CSEstack events in your college.
And yes! Your feedback is valuable to us. You are the bridge between your college and us. Feel free to reach us if we can conduct programming events in your college.
If any of your friends appear for campus placement or interview, you can ask them to fill this simple Google Form to share his/her experience.
Responsibility makes you superior. Leadership makes you stand out in the crowd. So if you are willing to take this as an opportunity to make yourself bright and to enlight your personal skills, apply now.