NIT Trichy Presents Pragyan | Biggest Tech Fest in India [Event]
Pragyan is the annual tech fest organized by the NIT Trichy. Started in 2005, in just a span of few years, it has delighted with many feathers in its crown.
This event has already got its glimpse of getting recognition from Wikipedia.
It is honorably certified by ISO 20121:2012 for Sustainable Event Management.
More to it, Pragyan is only 3rd students organized tech fest getting a certification, just after the London Olympics and Manchester United.
This list goes on.
What does make Pragyan so famous?
The Event they organized!
Looking into your interest and as we abide by space and time, let's muse into the detail.
Pragyan by NIT Trichy |  Tech Fest Events:
Pragyan tech fest is celebrated every year. And students from hundreds of various colleges in India participate.
NIT Trichy Pragyan Event List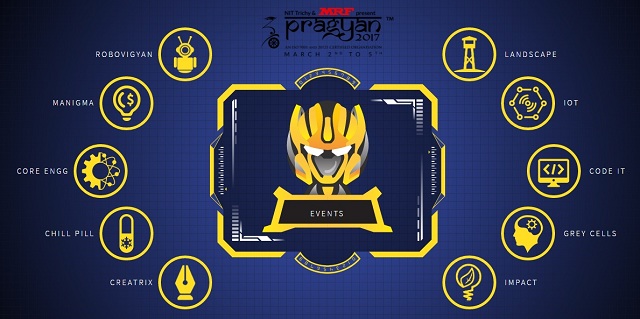 As like every year this year as well, the tech fest is thrilled with back to back exciting tech events for a couple of months.
Pragyan 2017 Event List
Robovigyan
Manigma
Core Engg
Chill Pill
Creatrix
Landscape
IoT
Code It
Grey Cells
Impact
For more detail, kindly do visit its Pragyan official page. They have both online as well as onsite competitive events for all the enthusiastic participants.
As this is a computer science portal for programmers, you are interested in coding events for sure.
And here it is.
Code It:
"Code It" event is especially for enthusiastic programmers. There are Six events under "Code It" you can participate.
"Code It" Event List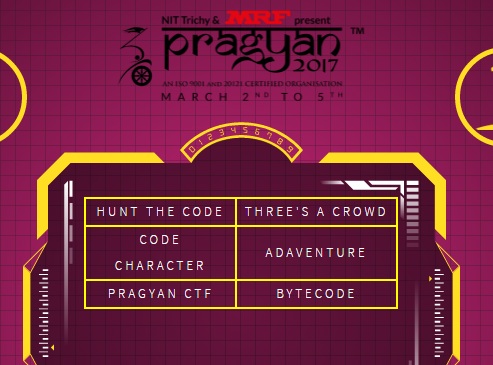 When I look into the back, I feel really proud. I completed M.Tech. from NIT, Trichy (2014-2016).
I still remember wearing the Pragyan T-Shirt and being part of this stimulation. It was just AWESOME.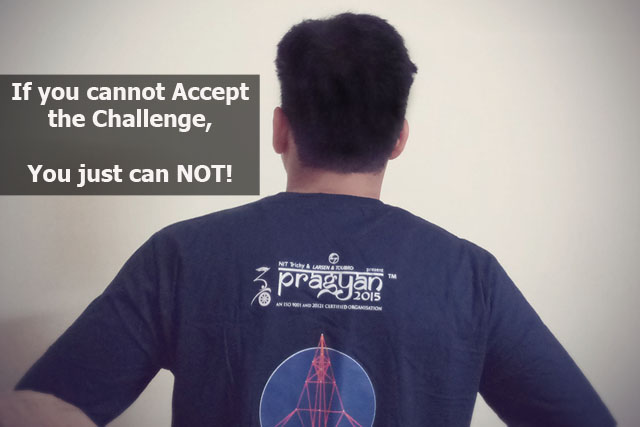 This year, Pragyan comes up with the opportunity for you to drive innovation within you.
It gives you a platform where talent and hard work are the only keys to define your success and to get recognized.
What can be more exciting, if I say, prize money goes around worth 2 Million INR?
You heard it right.
So what are you waiting for?
Registration is open for all. For more detail or to register for any of these events, visit the official webpage of Pragyan organized by NIT Trichy.
Note: Some events are online, and some are onsite. Every event has its deadline. I request you to check the detail on Pragyan official website.
I feel really sorry as I am sharing this event a little late. The deadline for each of these events is coming close. So don't wait for another reminder from us.
Grab your seat and tighten your belt, opportunity does not knock again!
Happy Coding!
---
Editor's Note: Thanks, Jeevan Benny for providing valuable information to summarize this event list.