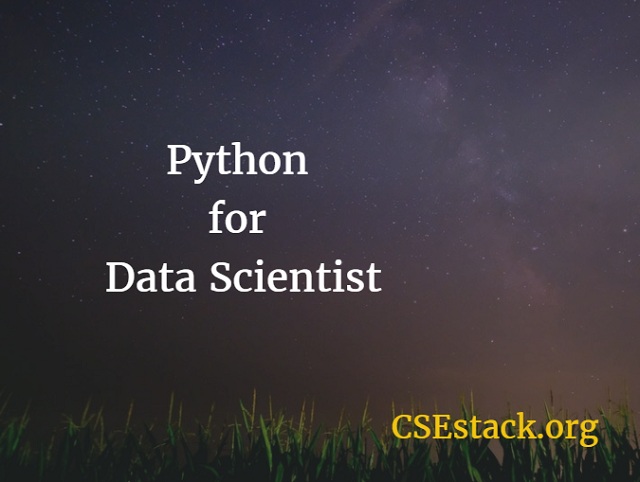 This course is meant to educate and master Python skills for Data Science.
This course will take you through the basics of Python, data analysis, data visualization for Data Science. We will be exploring Python libraries used in Data Analytics along with the different types of real datasets. This course will be more focused on practical demonstrations of real data science.
At the end of this course, along with mastering Python, you will learn to prepare data for analysis, performing statistical analysis, creating meaningful data visualizations, predicting future trends from data, and more!
[fenomen_title title="Course Outline"]
Course Outline Discussion
Importance of Data Science with Real Example
Why Python for Data Science?
Different Python Version
Python Installation and Setup
Editors and IDE
Variables and Data Types
String Operations
Python Data Structures (Lists and Tuples Sets Dictionaries)
Conditions and Branching
Loops
Functions
Objects and Classes
Installing and Importing Python Libraries
Working with Data in Python
File Handling- Reading and Writing File
Jupyter Setup (Notebook- mostly used for Data Science)
---
Online Test and Discussion
Module 2: Exploring Python for Data Science
Essential Python Libraries for Data Science
Numpy Tutorial
Pandas Tutorial
Dealing with Numpy arrays and Pandas Dataframe
---
Online Test and Discussion
Module 3: Data Analytics with Python
Data Wrangling
Preprocessing Data
Dealing with the Missing Values
Data Formatting
Data Normalization
Descriptive Statistics
Grouping multiple data variables
Evaluating Correlation
---
Online Test and Discussion
Module 4: Data Visualization with Python
Exploring Python Libraries for Data Visualization
Different Data Visualization Graph
Plotting Graphs using Matplotlib
---
Online Test and Discussion
Module 5: Real time Project Demo dealing with different Datasets
Analysing Real Datasets
Putting Data Analytics and Data Visualization together
---
Online Test and Discussion
How to scrap the internet website data?
Understanding HTML tags
Parsing data.
Make data visualization.
Making a simple web application to demonstrate your result
Live demo – to find the best restaurant in Bangalore
---
Online Test and Discussion
Bonus Session: Master Tips for Building career with Data Science
Making Online Portfolio
Putting Your Project Online
Growing Your Data Science Network
Resume Building
[fenomen_title title="Perk of the Course"]
You will get Complete Python eBook for reference.
All the Learning and Coding Resources will be shared.
Lifetime support for any query regarding the topics covered in this sessions.