Contribute to CSEStack Portal
We are providing the platform for all the geeks to share their words on CSEStack Computer Science Portal.
So what are you waiting for?
Bring Your Expertise and Become Author
We would like to give you an opportunity to share your article on CSEStack portal.
What are the topics you can cover?
You can write an article on any of the topics in Computer Science subject.
You can share your project stuff that adds value to this portal for sharing knowledge.
Being programmer you can also share your code/program with required detail.
You can cover any generic topic. (such as how to prepare for placement? How to learn C programming?…)
So bring your expertise and write an article.  Email us at share@csestack.org. Article credit will be given to you as CSEStack Guest Author.
There is no better way for Computer geeks to create identity as Computer Science Author by writting for CSEStack community.
Our team will verify the contents and make it live as soon as possible. Soon, you will find, your article has featured at the top of the portal stack and shared with the enthusiastic computer geeks.
Reward and Recognition: 
As a kind of reward and appreciation for all the contributors, we rank them by their leadership. It depicts how frequently they make the contribution. You can check out all the contributor on CSEStack Leader Board.
If you want to see yourself there, take an action today.
Share Your Experience & Help Others to Get their Dream Job
CSEStack has  placement portal to help new job aspirants or those are looking for the change. Candidates share their placement experience and interview questions. You can also help them by sharing your experience about placement and interview.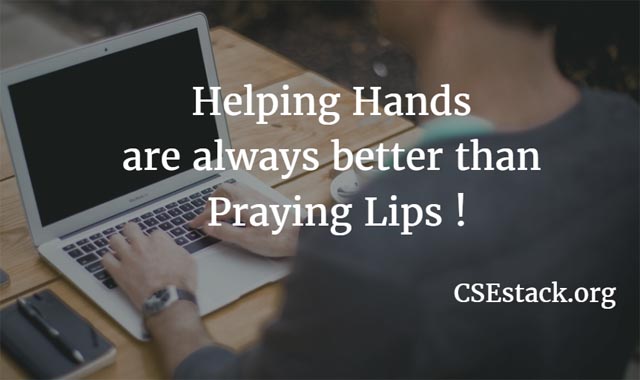 You can share your experience about placement and interview by simply feeling this Google form. Or you can share it by email at share@csestack.org.
Be the CSEStack Campus Ambassador
We are giving an opportunity for students to represent CSEStack in their colleges. If you think you have really good leadership qualities, do read all beneficiaries of being Ambassador. To grab this opportunity, you can apply here.
Be excited to see your article featured on Landing Page of CSEStack and everyone is happy for your help!